The Turks of Medevial 2: Total War are an Islamic faction that represents the Seljuk Turks, and later the Ottoman Turks. They have outstanding mounted archers and janissary troops, though they lack in heavy armour and early period infantry.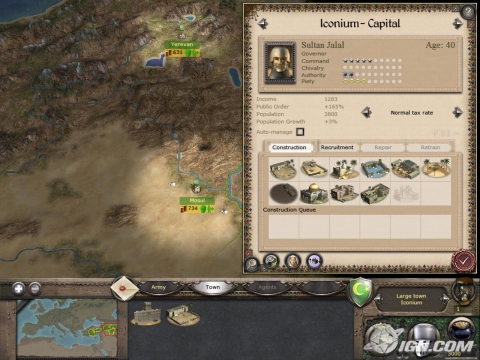 The Turks may be relative newcomers to both Anatolia and the Holy Lands, but the impact they have had upon these realms since they migrated from the steppes east of the Caspian has been profound enough to shake the pillars of the oldest and mightiest neighboring dynasties. Having seized control of the Abbasid Caliphate from the Buyds, and utterly crushed the Byzantines at Manzikert, the Turks have restored unity to the eastern Islamic region making them arguably the greatest power Arabia or Persia has seen for centuries.
Religion - Islam
Long Campaign win conditions - Hold 45 regions, including: Constantinople Region, Jerusalem Region
Short Campaign win conditions - Hold 20 regions. Eliminate Factions: The Byzantine Empire
Financial Start - Starting Purse 8,000 Florins
Kings Purse - 2,000 Florins
Settlements
Iconium (Large Town, Capital) - Town Guard, Town Hall, Grain Exchange, Dirt Roads
Yerevan (Town) - Town Watch
Mosul (Wooden Castle) - Stables
Caesarea (Castle) - Bowyer
Initial units
4 General Bodyguard's
7 Spear Militia
4 Turkish Archers
1 Peasant Archers
2 Turkomans
Ruling Family
Sultan Jalal (Age 40; Faction Leader) - Command 5, Dread/Chivalry 0, Authority 2, Piety 4
Crown Prince Mustafa (Age 20; Faction Heir) - Command 3, Dread/Chivalry 0, Loyalty 5, Piety 5
Tutush ad-Dawlah (Age 12; Junior Family Member; Male)
Nefise ad-Dawlah (Age 11; Junior Family Member; Female)
Initial Agents
Sundak al Hasan (Age 20; Spy) - 4 Subterfuge
Kilij Murat (Age 20; Diplomat) - 4 influence
Baraka (Age 30; Iman) - 4 piety
Ad blocker interference detected!
Wikia is a free-to-use site that makes money from advertising. We have a modified experience for viewers using ad blockers

Wikia is not accessible if you've made further modifications. Remove the custom ad blocker rule(s) and the page will load as expected.