Home
Talk

28
1,024pages on
this wiki
Welcome to Total War Wiki
A gaming wiki from Wikia

The wiki is a community that aims to create the best gamer's resource to the Total War series, and you can help!
Total War Wiki
We are currently editing over 1,024 articles. If you're new to Total War and want to know more, read the summary page here. First time on a wiki? Then visit the About page, and join the team.
All pages can be edited and you're welcome to join us and contribute along side us. Any questions should be posted in the wiki community center, which is the Main Page discussion. Everyone is free to create a new page or edit an existing one.
Recent News
September 25, 2014 - Total War: Attila announced!!
September 3, 2013 - Total War: Rome II released!!
March 15, 2011 - Total War: Shogun 2 released!!
November 11, 2010 - Shogun 2: Total War release date announced: March 15, 2011.
February 26, 2010 - Napoleon: Total War has been released on February 26th, 2010 in several editions; Standard Edition, Imperial Edition, and Emperor's Edition (available in Australia).
March 4, 2009 - Empire: Total War released in Europe!
Featured Article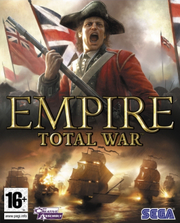 Empire: Total War is a turn-based strategy and real-time tactics computer game developed by The Creative Assembly and published by Sega. The fifth instalment in the Total War series, the game was released in North America on 3 March 2009, and in the rest of world the following day. The game, which focuses on the early modern period of the 18th century, was announced at the Leipzig Games Convention in August 2007.
Following a similar style of interface and play to earlier Total War titles, players choose a contemporary 18th century faction and set out to ensure that faction's domination over the known world through military force, politics, diplomacy, espionage and economics. Although the campaign element of the game is turn-based, players can direct battles in real-time. Empire: Total War is the first game in the series to allow naval battles to be conducted in real-time. In addition to the standard campaign mode, the game includes a special campaign that follows the development of the United States from the settlement of Jamestown to the American War of Independence. Players may also engage in recreations of several historical battles from the early modern era.... Read More
Helping Out
---
Contents
Total War Games
Game footage / screenshot