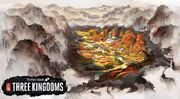 Total War: Three Kingdoms is the next major historical title in the Total War series, developed by The Creative Assembly. It was announced on January 10, 2018, and scheduled to be released on March 7, 2019. The game is set in China during Three Kingdoms era.
The game features two game modes. The first mode, "Romance", is based on the highly romanticized account of the era, Romance of the Three Kingdoms, in which generals are gifted with nearly superhuman strength. Another mode, "Classic", based on Records of the Three Kingdoms, presents a more historically accurate version. In Classic, the generals have their powers removed and they can no longer be commanded separately.
Wu Xing (Elemental Phases) is a new gameplay mechanic. The system is based on the ancient Chinese philosophy that describes the interrelationships of the five elements to view the workings of the world. Wu Xing mechanic summarize the rock-paper-scissor balance approach from previous titles, streamlining them into a closed-circuit system that affects every aspects of gameplay (meta).
The new Guanxi System is modelled after Guanxi, the Chinese concept of dynamic inter-relationships, Creative Assembly claims that the game has taken an paradigm-shifting approach to character agency, with iconic, larger-than-life heroes and their relationships defining the future of ancient China. Each of these characters is brought to life with their own unique personality, motivations, and likes/dislikes. They also form their own deep relationships with each other, both positive and negative, that shape how your story plays out.
Playable Factions
Edit