Renowned for their swordsmanship, these infantrymen are protected by good light armour and an open helmet. Armed with a metal buckler shield and a double-edged, razor sharp Toledo made sword. These swordsmen are capable of breaking pike formations and wreaking havoc among less well armed and trained units. They do, however, need to be wary of heavy cavalry.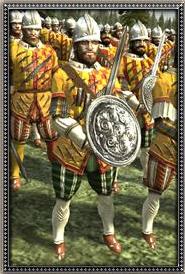 Description
Edit
Soldiers: 30
Attack: 11
Charge Bonus: 3
Weapon Type: Melee
Total Defence: 15
Armour: 3
Defence Skill: 4
Shield: 8
Hit Points: 2
Recruitment Cost: 520
Ad blocker interference detected!
Wikia is a free-to-use site that makes money from advertising. We have a modified experience for viewers using ad blockers

Wikia is not accessible if you've made further modifications. Remove the custom ad blocker rule(s) and the page will load as expected.