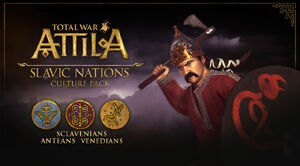 Slavic Nations Culture Pack
is a downloadable culture pack for
Total War: Attila
. It was announced on February 9, 2016.
The Slavic Nations Culture Pack brings three new playable factions to Total War™: ATTILA. The Anteans, Sclavenians and Venedians may be used in Single or Multiplayer Campaign modes and Custom and Multiplayer battles.
A hardy and mobile people, The Slavs range far and wide across the blasted Steppe to recolonise and bring new life to abandoned earth. When conflict occurs, they release withering hails of poison arrows on their foes. Whether through diplomacy or conflict, they offer the perfect counter to the Hunnic threat, and introduce a number of unique ways to play Total War: ATTILA in both Campaign and Battle.
Playable factions
Edit
Anteans
Sclavenians
Venedians
Ad blocker interference detected!
Wikia is a free-to-use site that makes money from advertising. We have a modified experience for viewers using ad blockers

Wikia is not accessible if you've made further modifications. Remove the custom ad blocker rule(s) and the page will load as expected.