Attack: 9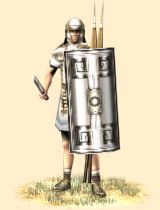 Missile: 13
Defense: 22
Recruitment Cost: 710
Abilities: Can form testudo (tortoise) formation with shields, javelins thrown before charge, good morale, good stamina, can sap.
Just as the Seleucids inherited the phalanx from their Macedonian predecessors, they were able to learn the legionary tactics from the Romans. Able to switch formations far more easily than pikemen, these legionaries are the most useful of all Seleucid infantry units. They even wear similar armor and carry the same weapons as the Romans - namely pila (javelins) and a short sword, in addition to a large, rectangular, shield that protects much of the body. These Romanized infantry are the best copies of the Roman Legions available abroad, and are each commanded by a Greek Hoplite captain serving as a centurion.
Ad blocker interference detected!
Wikia is a free-to-use site that makes money from advertising. We have a modified experience for viewers using ad blockers

Wikia is not accessible if you've made further modifications. Remove the custom ad blocker rule(s) and the page will load as expected.