Mounted Sergeants are the lesser armed cavalry that ride in support of the knights. They comprise squires, rich commoners, or lesser nobility that cannot afford the expensive armour of a real knight. Although they cannot compare to real knights in battle, with their spears and swords they can perform valuable service against lighter enemies.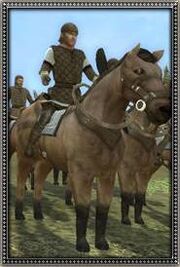 Description
Edit
Soldiers: 40
Attack: 9
Charge Bonus: 4
Weapon Type: Melee
Total Defence: 13
Armor: 4
Defence Skill: 5
Shield: 4
Hit Points: 1
Recruitment Cost: 470
Ad blocker interference detected!
Wikia is a free-to-use site that makes money from advertising. We have a modified experience for viewers using ad blockers

Wikia is not accessible if you've made further modifications. Remove the custom ad blocker rule(s) and the page will load as expected.