Religious Fanatics
are a motley assortment of zealots and maniacs from amongst the common folk of Christendom, mainly Western Europe. Banding together with other like-minded militant pilgrims, armed with clubs and other simple weapons, these undisciplined and unruly
mercenary mobs
flock on crusades to the Holy Lands, often tagging along behind armies.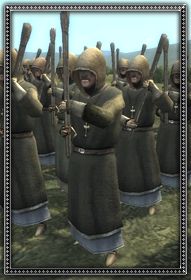 Description
Edit
Soldiers: 60
Attack: 13
Charge Bonus: 6
Weapon Type: Melee
Total Defence: 1
Armour: 0
Defence Skill: 1
Shield: 0
Hit Points: 1
Recruitment Cost: 180
Upkeep: 90
Ad blocker interference detected!
Wikia is a free-to-use site that makes money from advertising. We have a modified experience for viewers using ad blockers

Wikia is not accessible if you've made further modifications. Remove the custom ad blocker rule(s) and the page will load as expected.