While the crossbow is relatively easy to use and powerful, it leavs the user quite vulnerable during the slow reload process. These men have large pavise shields on their backs, which they turn to their enemy while they reload.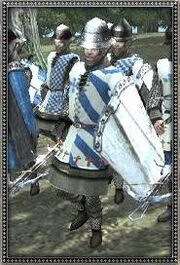 Description
Edit
Soldiers: 60
Melee Attack: 6
Missile Attack: 12
Charge Bonus: 1
Weapon Type: Missile
Total Defence: 14
Armour: 5
Defence Skill: 3
Shield: 6
Hit Points: 1
Recruitment Cost: 490
Ad blocker interference detected!
Wikia is a free-to-use site that makes money from advertising. We have a modified experience for viewers using ad blockers

Wikia is not accessible if you've made further modifications. Remove the custom ad blocker rule(s) and the page will load as expected.