Altough primitive, the arquebus is able to inflict considerable damage and panic when used at close range, and can penetrate almost any armour. Portugese Arquebusiers are noted for their uncouth and uncompromising attitude, and are quite happy to follow up a volley with their swords.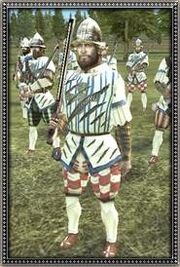 Description
Edit
Soldiers: 60
Melee Attack: 11
Missile Attack: 16
Charge Bonus: 3
Weapon Type: Firearm
Total Defence: 13
Armour: 5
Defence Skill: 8
Shield: 0
Hit Points: 1
Recruitment Cost: 760
Ad blocker interference detected!
Wikia is a free-to-use site that makes money from advertising. We have a modified experience for viewers using ad blockers

Wikia is not accessible if you've made further modifications. Remove the custom ad blocker rule(s) and the page will load as expected.