Peasants are a type of melee unit in Rome: Total War.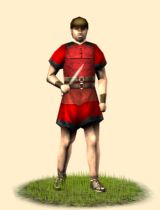 Description
Edit
Peasants are reluctant warriors, but numbers are useful in all armies. Forcing peasants to fight is one way of getting lots of men in the field quickly and cheaply. They have little tactical sense, and even less willingness to fight - they would rather be defending their own homes rather than be dragged to a battle they neither care about nor understand. But if nothing else, they are useful when there's digging to be done! They are, however, experts at reading the land and hiding whenever there is cover.
Troops: 30
Cost: 100
Attack: 1
Defense: 1
Charge: 1
Ad blocker interference detected!
Wikia is a free-to-use site that makes money from advertising. We have a modified experience for viewers using ad blockers

Wikia is not accessible if you've made further modifications. Remove the custom ad blocker rule(s) and the page will load as expected.