Sudanese Gunners come from all over Africa. Made up of slaves and freemen, these sought after troops are well trained and disciplined troops. Armed with an arquebus, this forerunner of the musket is capable of firing deadly armour piercing shots. This noisy, smokey and lethal weapon is so intimidating it causes morale damage as well as physical hurt.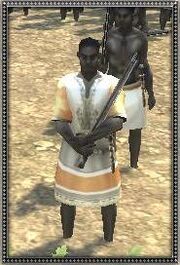 Description
Edit
Soldiers: 60
Melee Attack: 9
Missile Attack: 16
Charge Bonus: 3
Weapon Type: Firearm
Total Defence: 7
Armour: 0
Defence Skill: 7
Shield: 0
Hit Points: 1
Recruitment Cost: 570
Ad blocker interference detected!
Wikia is a free-to-use site that makes money from advertising. We have a modified experience for viewers using ad blockers

Wikia is not accessible if you've made further modifications. Remove the custom ad blocker rule(s) and the page will load as expected.