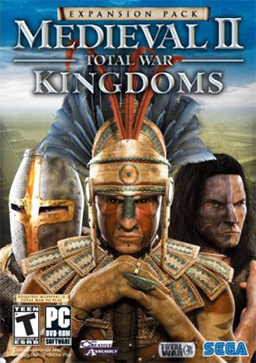 Medieval II Total War: Kingdoms is the expansion to the 2006 PC game, Medieval II: Total War. The expansion was released on August 28, 2007 in the United States and has four new campaigns, focusing on: Colonialisation of the Americas, 13th century Britain, the Crusader Campaigns in the Levant and Teutonic Crusade in Northern Europe.
On each of the expansions, a small part of the world map is taken (e.g Britain) and many settlements are added to it. Whereas Britain in the main game has a total of 7 castles or cities, the Britannia Campaign contains many more. There are many new units and maps.
New Features
Edit
This section requires expansion. Please expand it to the best of your abilities.
New features include: 4 campaigns about different parts of the world, New factions for each campaign,New units for each Campaign and some different UIs. There are 110 new units and 7 new mutiplayer maps.
Ad blocker interference detected!
Wikia is a free-to-use site that makes money from advertising. We have a modified experience for viewers using ad blockers

Wikia is not accessible if you've made further modifications. Remove the custom ad blocker rule(s) and the page will load as expected.