Janissaries are mostly formed from a levy of Christian boys, but also include prisoners of war who have converted to Islam. These elite heavy infantry are armed with a halberd and armoured in mail. They are expected to lead the infantry charge into battle with courage and honour.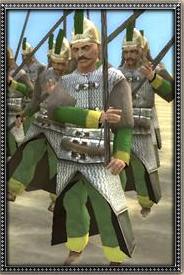 Description
Edit
Soldiers: 60
Attack: 12
Charge Bonus: 4
Weapon Type: Melee
Total Defence: 10
Armour: 5
Defence Skill: 5
Shield: 0
Hit Points: 1
Recruitment Cost: 840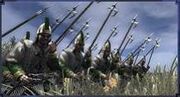 Ad blocker interference detected!
Wikia is a free-to-use site that makes money from advertising. We have a modified experience for viewers using ad blockers

Wikia is not accessible if you've made further modifications. Remove the custom ad blocker rule(s) and the page will load as expected.