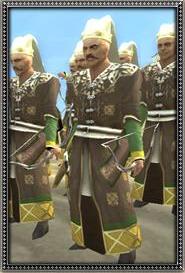 Janissary Archers are a type of archer infantry in Medieval II: Total War.
Soldiers: 60
Melee Attack: 10
Missile Attack: 10
Charge Bonus: 3
Weapon Type: Missile
Total Defence: 13
Armour: 5
Defence Skill: 8
Shield: 0
Hit Points: 1
Recruitment Cost: 780
Description
Edit
Janissaries, "Yeni ceri", meaning new soldier in Greek are recruited by a levy of Christian boys within the empire. Drafted while young, these soldiers form a large part of the Turkish army and pledge loyalty to the Sultan. Janissaries are expert archers armed with powerful bows. They usually wear some armour underneath their robes.
The description of this unit states that "Yeni ceri" is a Greek term; in reality, it is Turkish.
Ad blocker interference detected!
Wikia is a free-to-use site that makes money from advertising. We have a modified experience for viewers using ad blockers

Wikia is not accessible if you've made further modifications. Remove the custom ad blocker rule(s) and the page will load as expected.