The
Iroquois Confederacy
is a minor faction in
Empire: Total War
, and a playable faction in
The Warpath Campaign
DLC.
Description
Edit
The Iroquois Confederacy represents an alliance of six native tribes who share a common language and homeland in the north east of America. They call themselves "Haudenosaunee", loosely translated as "People of the Longhouse". During their tenure in America the French named them "Iroquois", a word derived from the Huron-Wyandot word meaning "Black Snake". The hostility between the Iroquois and their neighbours is the result of conflicts over fur trading. The Huron-Wyandot traded with the French and, because of this, the Iroquois naturally found themselves allied with the British. This aided them in battle, eventually contributing to the expulsion of the French from America. They also supported Great Britain during the American War of Independence, something that now places them at odds with the United States. Fortunately the Iroquois are masters of irregular warfare: appearing from the undergrowth, striking at their targets, and disappearing again as quickly as they arrived. What they lack in terms of technology and firepower, the Iroquois make up for with guile, cunning, and ruthless brutality when on the warpath.
Starting position
Edit
Year:1783
Regions • Iroquois Territory - Cayuga (Capital) • Algonquin Territory - Niagara • Ohio Territory - Fallen Timbers
Government:Absolute Monarchy
Treasury:2500
Head of State: Red Jacket
Victory Conditions
Edit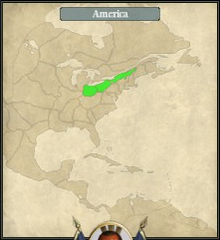 Short Campaign
Edit
Capture and hold 14 regions by the end of the year 1813, including the regions below.
Long Campaign
Edit
Capture and hold 20 regions by the end of the year 1823, including the regions below.
New France
Huron Territory
Michigan Territory
Indiana Territory
New York
Maryland
Pennsylvania.
World Domination
Edit
Capture and hold 30 regions by the end of the year 1828, including the regions below.
General Information
Edit
The Iroquois Confederacy occupies the central-western part of the Americas, and generally come into conflict with France, Thirteen Colonies, and Great Britain. As with most other Native American factions, they are especially deadly in the early game, with good melee infantry and formidable cavalry.
The Warpath Campaign
Edit
The Iroquois Confederacy is one of the playable factions in the Warpath Campaign DLC. They gain access to Mohawk Elite Warriors, Winnebago Warriors, and Onondaga Fire Keepers.
The flag used by the Iroquois Confederacy is the blue variant of the flag of the Iroquois Confederacy. The flag itself was created in the 1980s thus making its appearance anachronistic, however, the flag is based on the Hiawatha Belt which was made in the 18th century.