These men are the elite of French aristocracy, and can afford the best in arms and armour, not just for themselves, but also for their horses. As the flower of French chivalry, they have an ellan that is unrivalled. Altough they have a reputation for rashness when mounted, many are pragmatic enough to realize that sometimes it is better to fight on foot.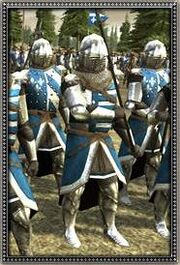 Description
Edit
Soldiers: 60
Attack: 21
Charge Bonus: 6
Weapon Type: Melee
Total Defence: 13
Armour: 8
Defence Skill: 5
Shield: 0
Hit Points: 1
Recruitment Cost: 530
Ad blocker interference detected!
Wikia is a free-to-use site that makes money from advertising. We have a modified experience for viewers using ad blockers

Wikia is not accessible if you've made further modifications. Remove the custom ad blocker rule(s) and the page will load as expected.