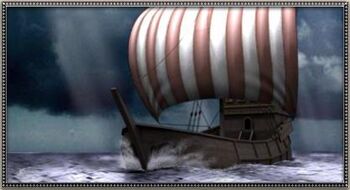 The Cog is a small 11th century vessel with an attached keel, rudder and a single square sail, initially used by Europeans for trading in the rougher coastal Atlantic waters. Cogs have a basic armament of soldiers and archers stationed aboard, as well as the ship's crew who can help out if boarded.
Description:
Soldiers: 25
Attack: 6
Charge Bonus: 1
Weapon Type: Crude
Total Defence: 9
Armour: 0
Defence Skill: 9
Shield: 0
Hit Points: 1
Recruitement Cost: 400
Upkeep: 150
Ad blocker interference detected!
Wikia is a free-to-use site that makes money from advertising. We have a modified experience for viewers using ad blockers

Wikia is not accessible if you've made further modifications. Remove the custom ad blocker rule(s) and the page will load as expected.