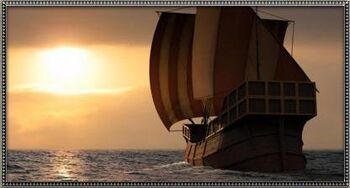 A small, highly maneuvrable three-masted ship used by
Spain
and
Portugal
for long voyages of exploration. Lightly armed compared with other ships of the 15th century, but capable of undertaking and surviving long voyages into the open sea, making it possible to discover far off places.
Description:
Soldiers: 37
Attack: 15
Charge Bonus: 1
Weapon Type: Crude
Total Defence: 15
Armour: 0
Defence Skill: 15
Shield: 0
Hit Points: 1
Recruitement Cost: 850
Upkeep: 275
Ad blocker interference detected!
Wikia is a free-to-use site that makes money from advertising. We have a modified experience for viewers using ad blockers

Wikia is not accessible if you've made further modifications. Remove the custom ad blocker rule(s) and the page will load as expected.