Not to be confused with Armenian Archers (Empire: Total War).
Armenian Archers are a type of missile infantry in Medieval II: Total War.
Description
Edit
After the Seljuk Turks invaded Armenia, many Christians fled south, where they formed the Christian Kingdom of Cilicia. Many Armenian troops from there earn their living as mercenaries fighting for anyone who can pay them. Feisty men from the mountains, they are lightly armed, but still efective.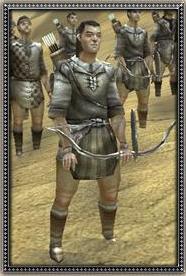 Description
Edit
Soldiers: 60
Melee Attack: 6
Missile Attack: 7
Charge Bonus: 1
Weapon Type: Missile
Total Defence: 6
Armour: 0
Defence Skill: 3
Shield: 3
Hit Points: 1
Recruitment Cost: Varies
Ad blocker interference detected!
Wikia is a free-to-use site that makes money from advertising. We have a modified experience for viewers using ad blockers

Wikia is not accessible if you've made further modifications. Remove the custom ad blocker rule(s) and the page will load as expected.